What Equipment is Used During Our Bubble Games?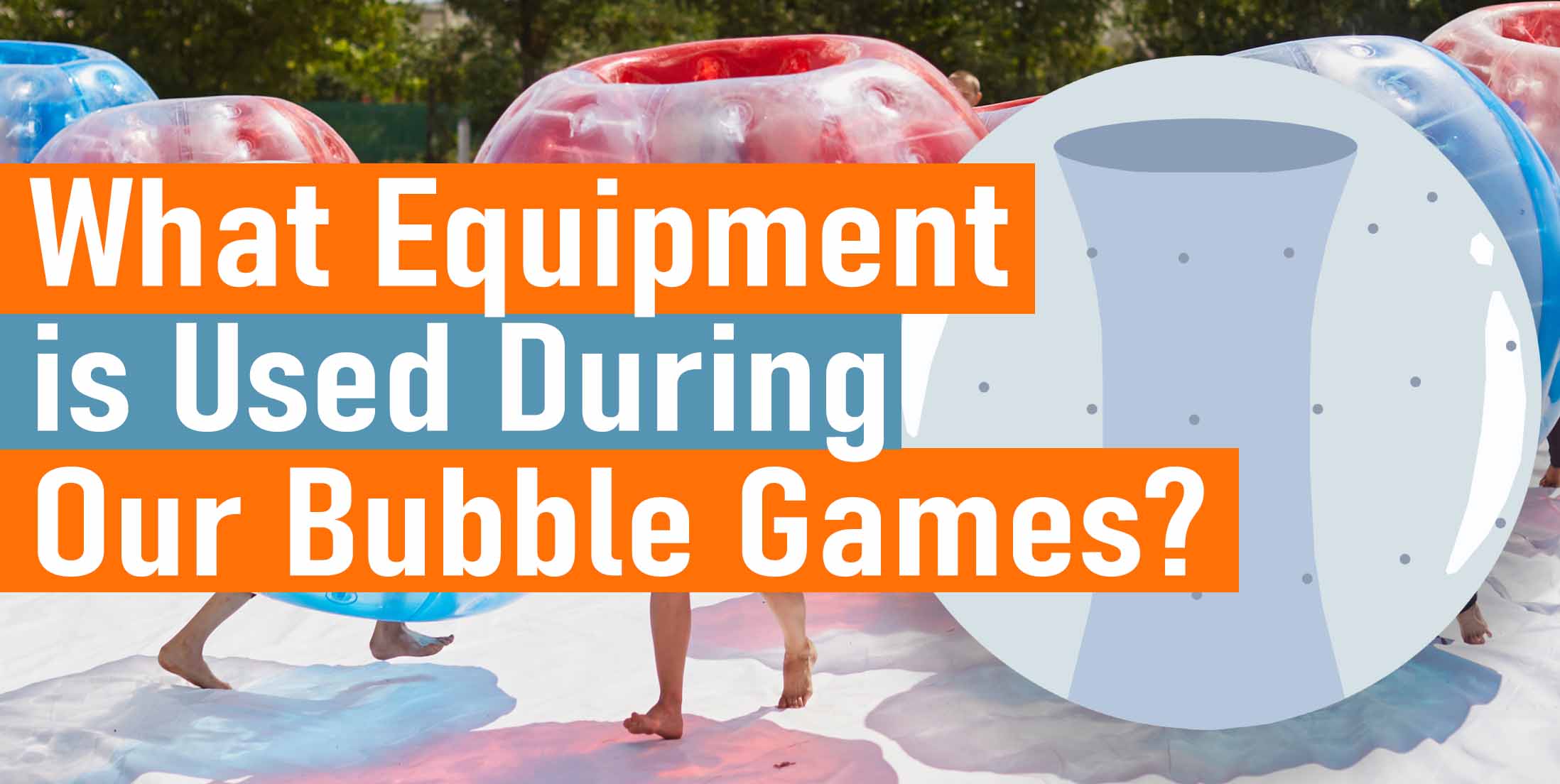 When it comes to booking one of our bubble games you will want to know exactly what you get with booking right?
Well we thought we would put all the information you need for your bubble games regarding the equipment all in one place for you. Whether you are booking a bubble football event, bubble mayhen, bubble mayhem or sports megamix most of the time the equipment is either the same or similar.
Bubble Suits
Most of our bubble games involve a bubble suit! These zorb suits are gigantic inflatable orbs with a hole going through the centre of them which is where you slot the human bubble suit around you! Then you can enjoy bashing, crashing, and rolling across the venue.
Bibs
Depending on what you are doing bibs can be worn so that you can easily see who is on what team! Usually these come in handy when playing ball events, archery tag and other similar events.
Football Pitches
With all the events we have if you are using an outdoor venue most of the time it will be a football pitch, even if it is indoors there will be some sort of court or pitch set out for you to compete on.
Goals
These are sort of a given but, if you are playing a bubble game that involves scoring goals then you will of course have football goals included in the equipment on the day.
Football
A football is another piece of equipment that would be an obvious one as it is usually in the name of the bubble event you are playing. But it is good to know that you don't need to bring your own football it will be provided for you on the day.
Referee or Events Co-ordinator
No matter what bubble game you are choosing you will always have a referee or events co-ordinator. Their job is to explain everything that is going to happen throughout the duration of the event and then make sure everything runs smoothly.
Electric Pump
Another obvious one. If you are having an inflatable bubble suit then they will need to be pumped up! An electric pump is always on hand for if they need inflating back up in between game play. And it will also be useful if any sports balls need pumping up.
Puncture Repair Kit
An inflatable orb suit goes through a lot with all the different games available and sometimes things happen and a puncture may occur. If that does happen a puncture repair kit can be on hand for some quick fixes.
Other Equipment Used in our Sports Megamix
Dodgeballs
When playing dodgeball you will be provided with multiple dodgeballs. There will be plenty of them to go round any group size. So everyone can have a go at aiming them at someone in the opposing team.
Sports Day Equipment
If you have chose to play some sports day themed games during your event then you can find various equipment will be provided. These will be for things like the egg and spoon race, sack race, relay race and more.
Bows & Modified Arrows
Archery tag is an addition that you can add to certain events and if so you will be provided with some bows and modified arrows that you aim at each other to tag someone in the opposite team!
Cones
Most events need cones for particular parts of the game or to mark out an area. With all our bubble games you will most likely have some cones included as part of the equipment.
Vision Obscuring Goggles
Goggle football is another addition to a sports event that you can add into your day. If you do then you will get some vision obscuring goggles that will (as the name suggests) completely obscure your view as you try to play a game of 5 a side.
Electric Shock Band & Button
Another choice for a 5 a side game includes an electric shock band & button. We always make sure there are enough to go around both teams so that you can enjoy the full experience of this unique sports event.
Did you know?
We have some of the best bubble activities available across some amazing destinations across the UK & Abroad.