The Best Sports Bars Newcastle has to Offer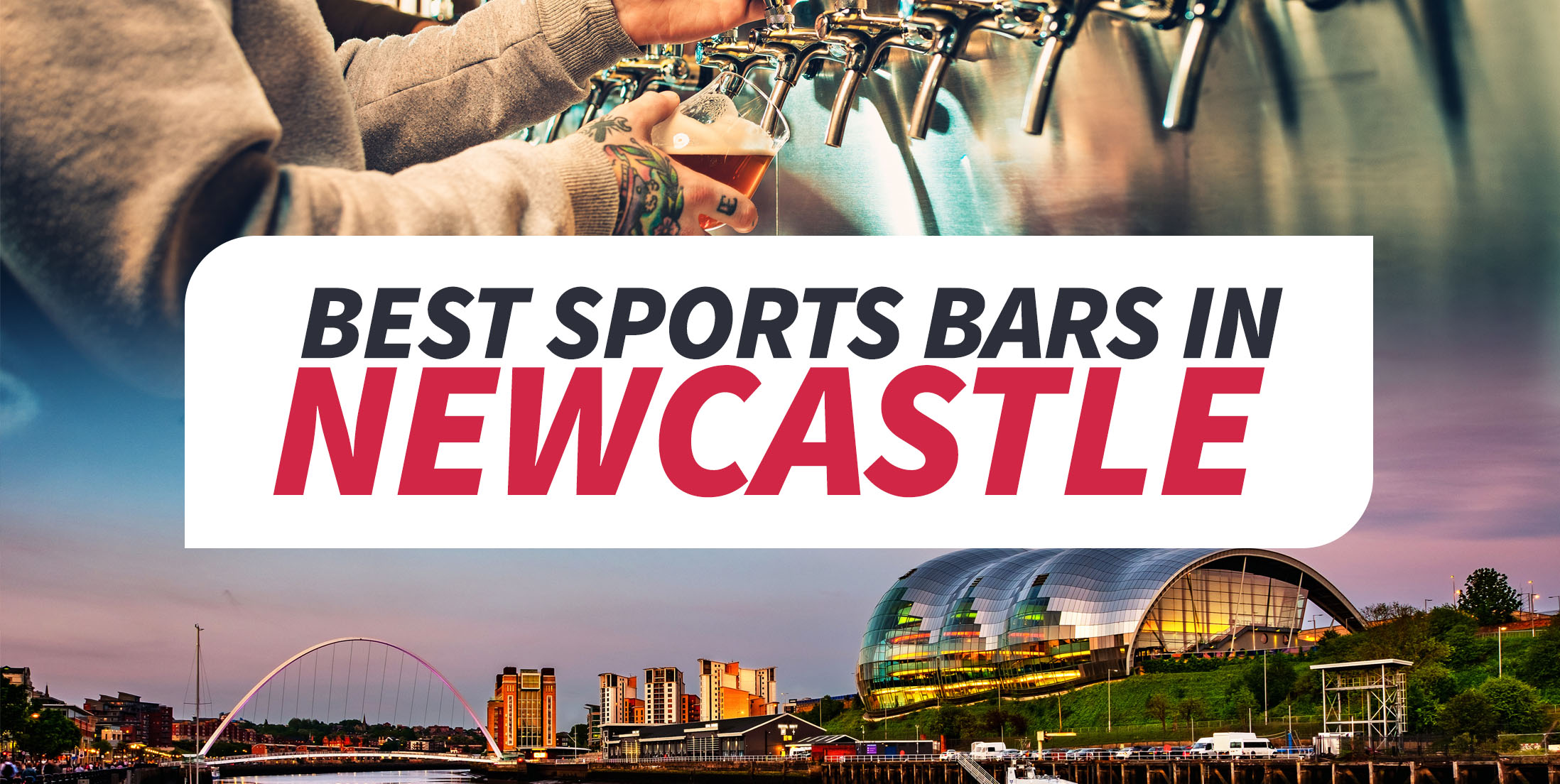 Watch some live sports with a few pints and some good mates at one of these lively sports bars in Newcastle
If you're heading out into this party city, whether it's for a big night out or a day on the town, these sports bars in Newcastle are worth checking out! Home to the Great North Run and The Magpies, this city is no stranger to sports. It's also known for being the home of the legendary MTV series Geordie Shore, so you can guarantee there's no shortage of places to drink! With all that being said, look at our list of the best sports bars in Newcastle below and find the perfect place to watch football, cricket or rugby with your mates!
---
1. Shark Club Gastro Bar
Gallowgate / Heber St | Website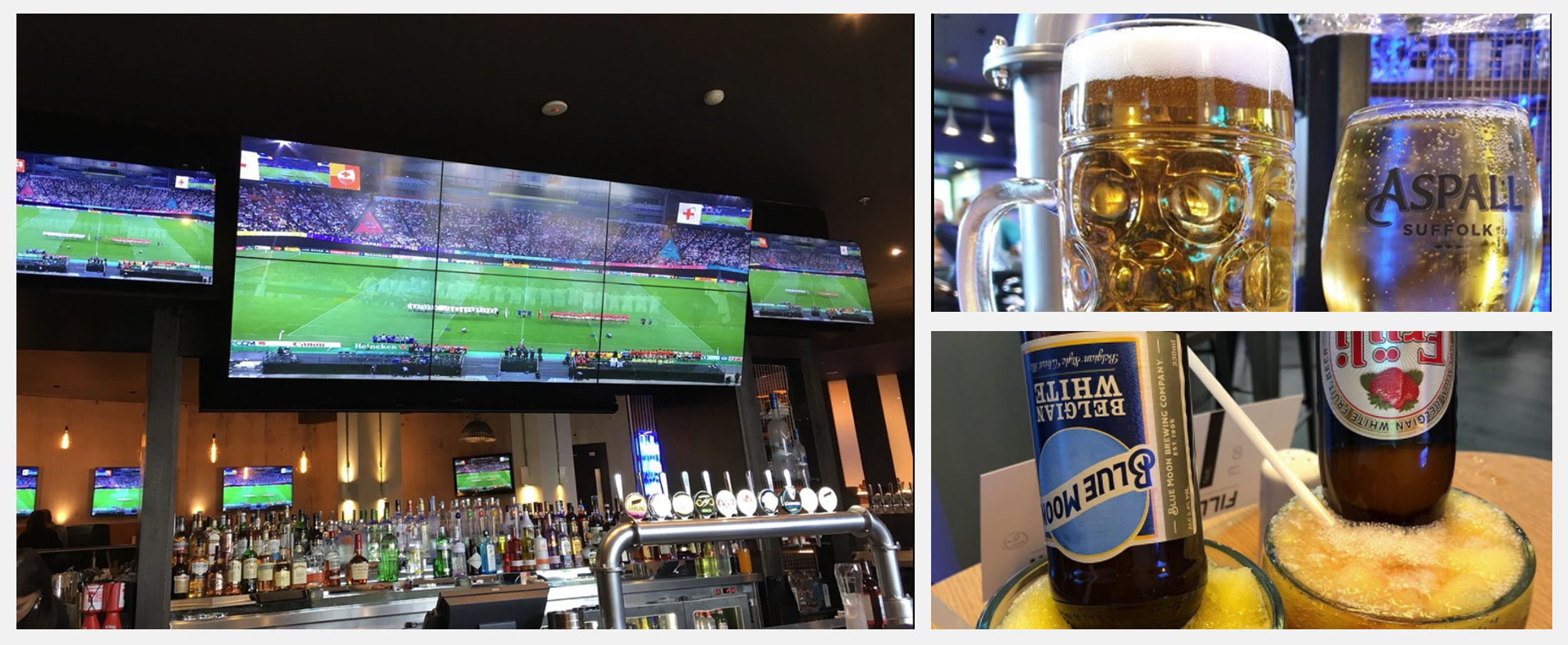 Since opening in 2011, Shark Club has been known as one of the best places to go after a pint, enjoying all the biggest matches in the UK. They like to think of themselves as 'your best friends Man Cave' with all the major league sports on the big screens, plenty of beer and enough staff to make sure you don't ever go without a pint during the games. They also have Hi-Def speakers and fantastic food so you can enjoy a memorable experience with your mates.
2. Nine Sports Bar & Lounge
Strawberry Pl (St James' Park) | Website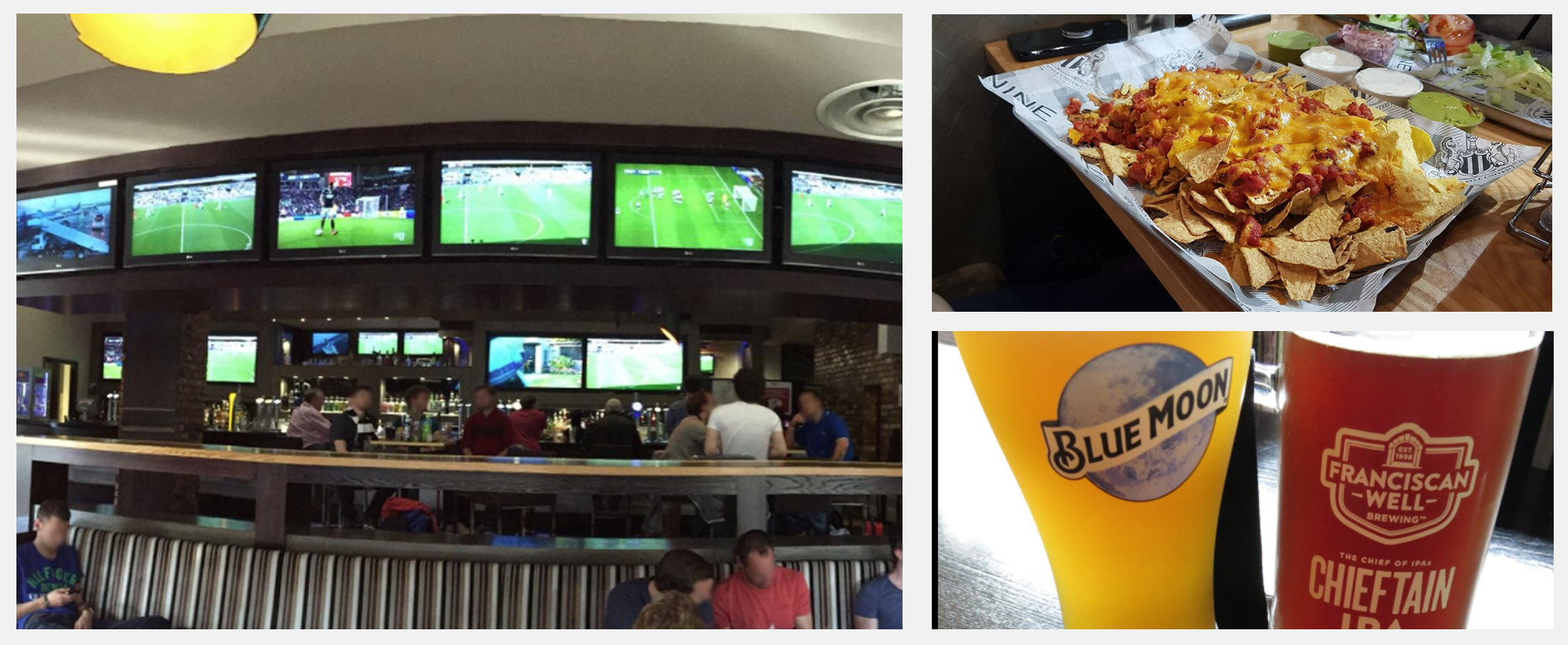 For the Newcastle United fans and everyone else, Nine Sports Bar & Lounge is the perfect destination for home and away fans on matchday or the place to go to watch all major televised sporting events. You will find a wide range of wines, beers, spirits, cocktails, a great menu with everything you'd need, and even a Sunday lunch! There are 35 large screen TVs dotted around the bar, so you will have the perfect view of the sports wherever you are sat. You can also hire private booths for major sporting events like the Super Bowl or Champions League.
3. Bar 52 Newcastle
Pilgrim Street | Website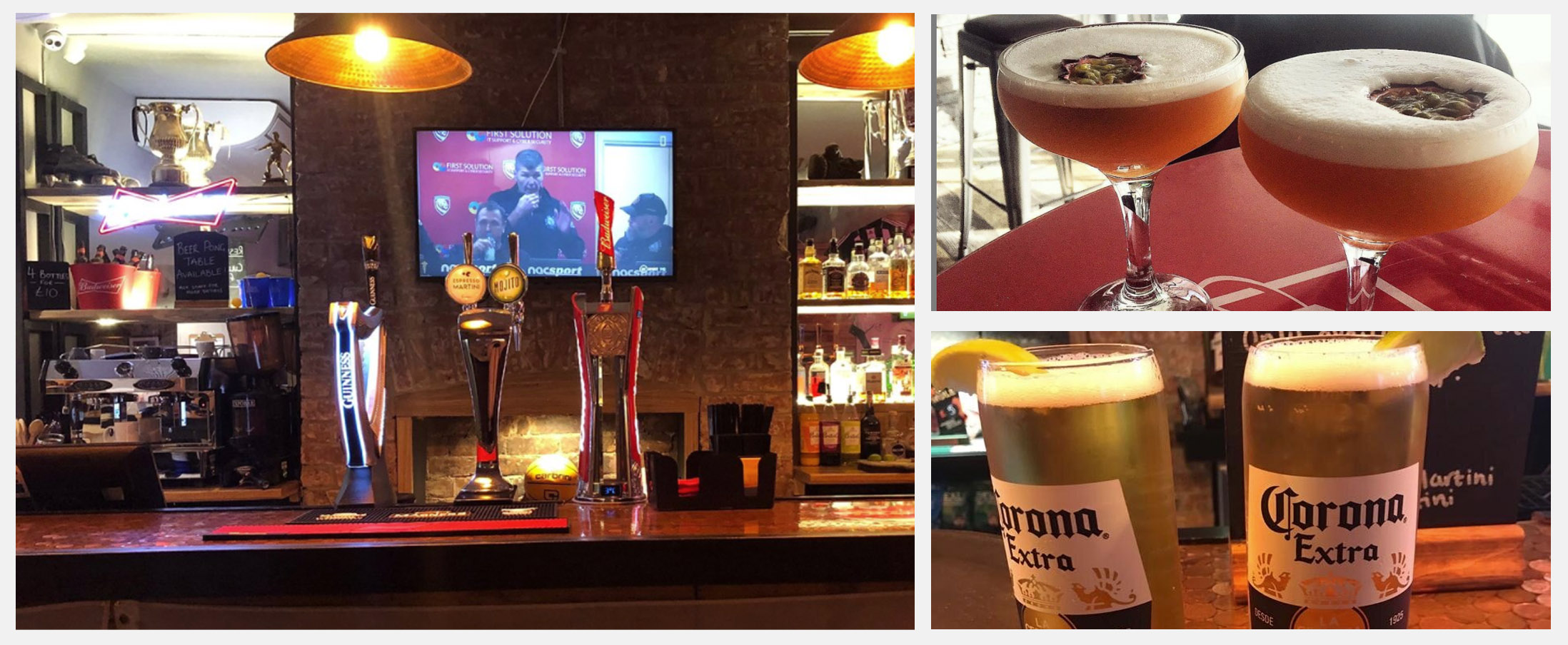 Bar 52 has everything you need and is known for being one of the best sports bars in Newcastle. With pool tables, dart boards, beer pong and more to keep you entertained, this is a great place to hang out and drink even if there's no sports showing. They have multiple TV screens that show all major sporting events, so you can enjoy watching the game with friends. They also have fantastic food, like 1,2 or 3kg worth of wings or ribs! Yes, you did read that correctly... that's a lot of food!
4. Stack
Pilgrim Street | Website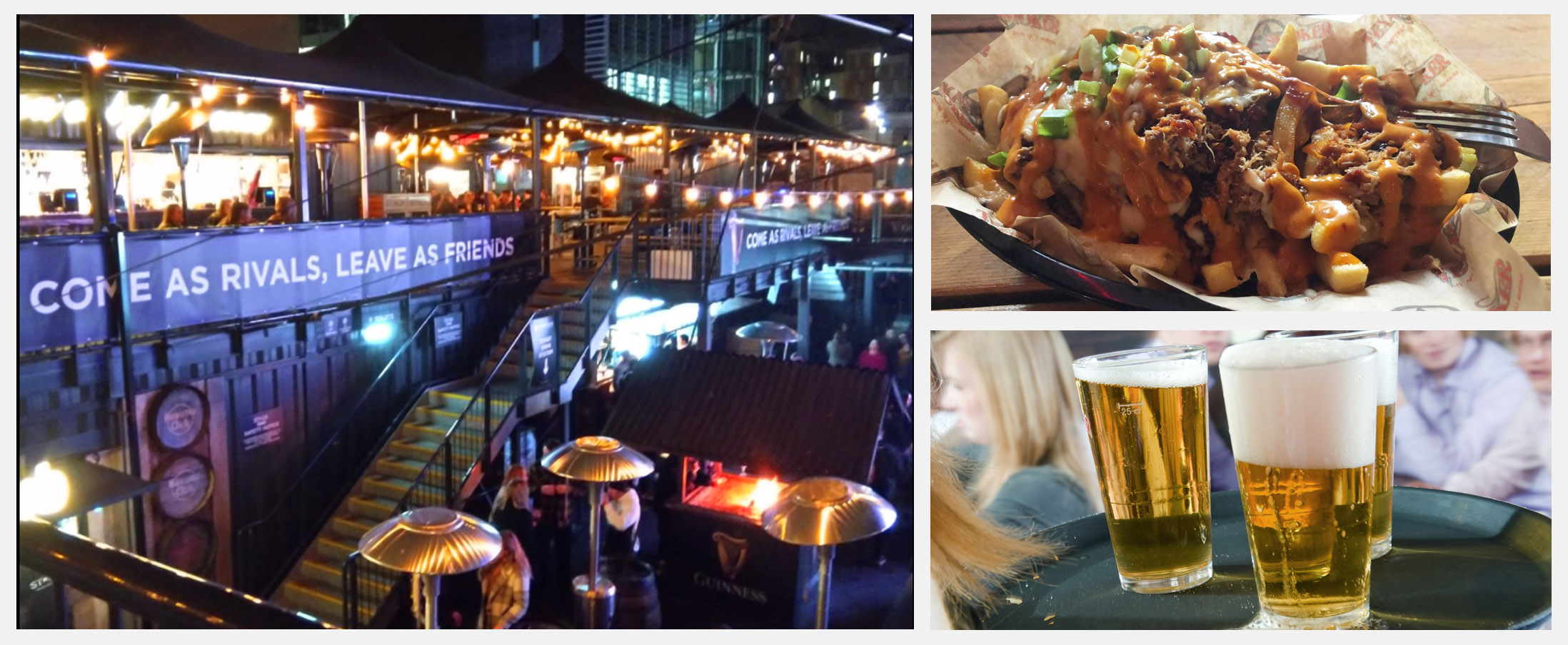 An idea that's been successfully replicated in the capital, Stack Newcastle is the city's premiere shipping container village. Not sure what that is? Then you're missing out! These old hulks of metal have been transformed into lively bars, and food stands spread out over two levels. In the centre, you'll find plenty of places to sit, eat, drink and party whilst enjoying the lively atmosphere. With four bars on-site, you'll find the Heineken Bar, Havana Club, Barley & Me and YOLO. To put it simply, it's like an urban festival but hosted every day of the week. If you're looking for somewhere atmospheric to watch a big sports event, then you can't get much better than this.
5. Akenside Traders
Dean Street | Website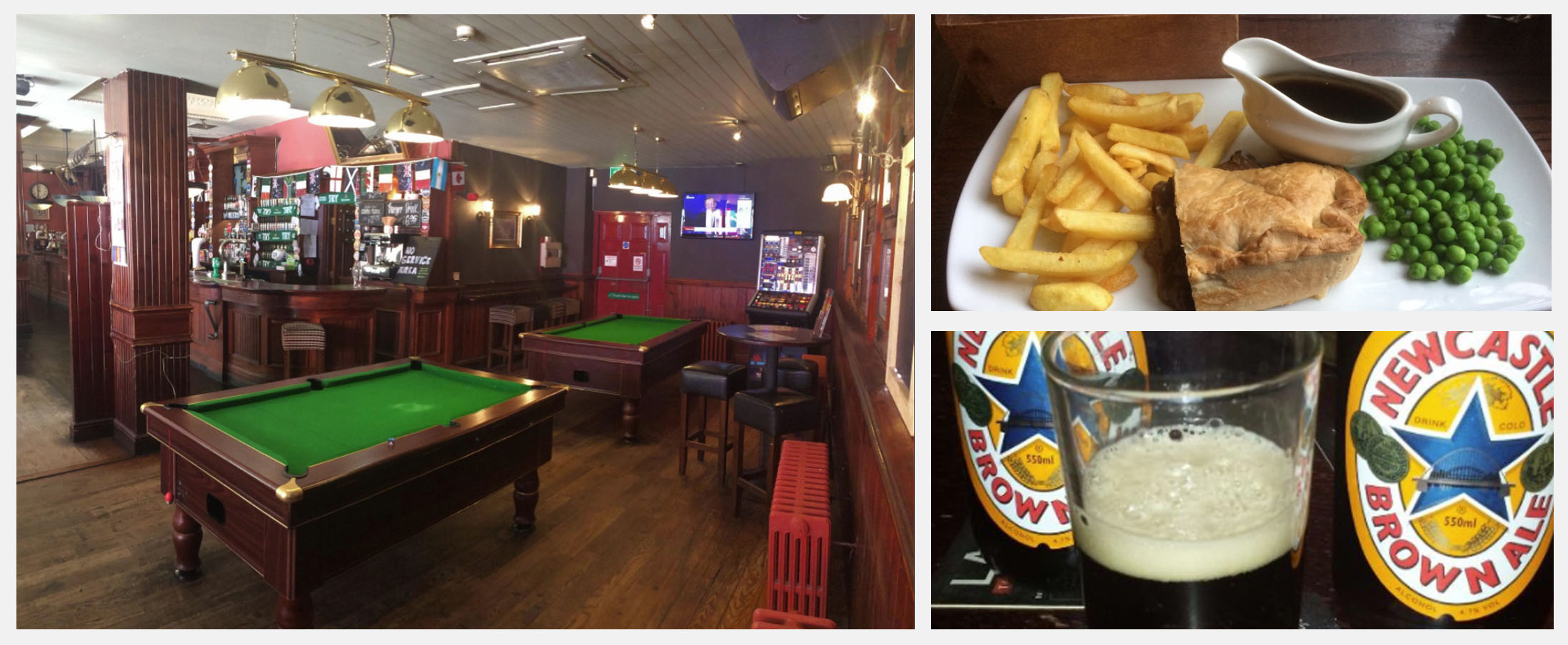 One of the city's most popular nightlife hotspots, Akenside Traders is a brilliant Newcastle sports bar in the historic Quayside. With BT Sports and Sky Sports showing on their HD screens, this lively boozer is perfect for all craft beer lovers out there too! Inside this large and exciting venue, you'll find the walls adorned with eclectic artwork and a full-size pool table for the punters. With regular DJ nights hosted throughout the week, there's no wrong time to visit here!
6. The Hancock
2a Hancock Street | Website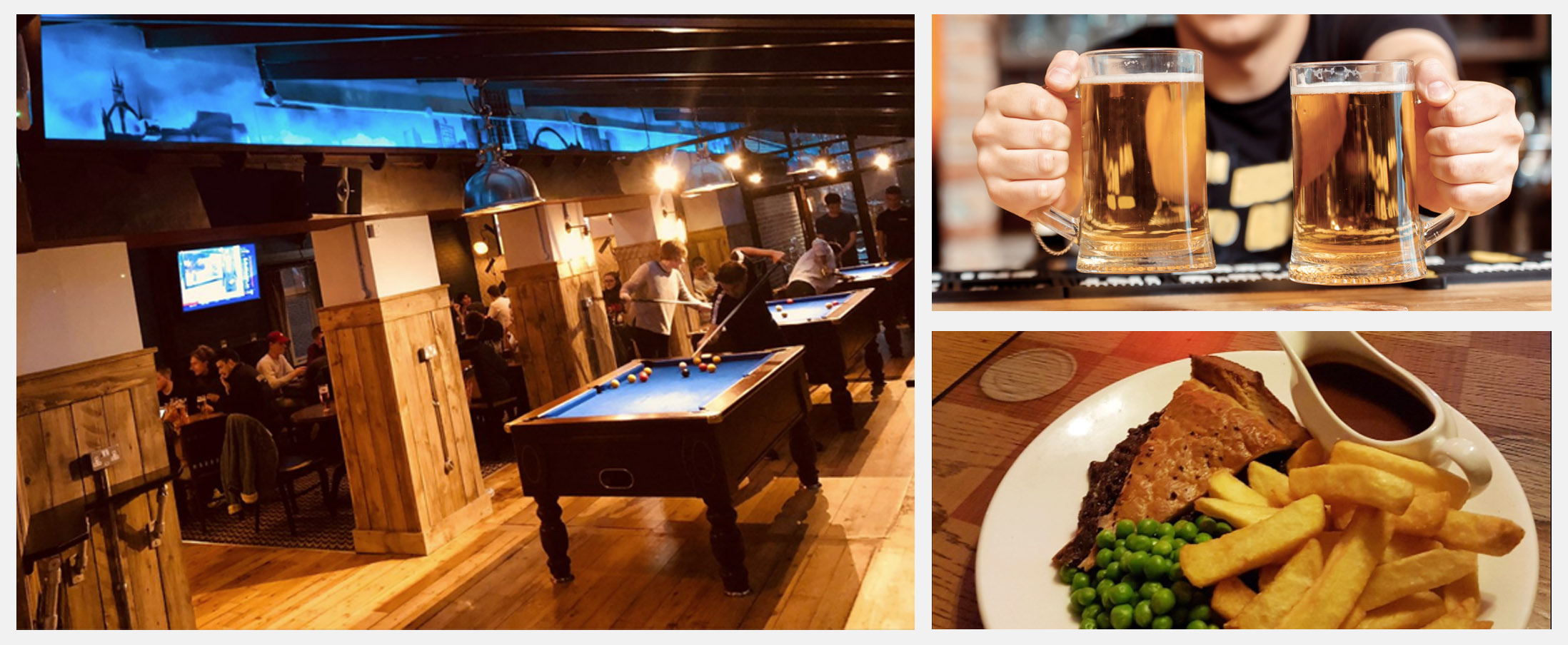 On the doorstep of the city's two major university campuses is The Hancock, a popular and lively hangout for students, locals, and visitors alike. Inside this Newcastle sports bar, you will find three large high-def TV screens showing all kinds of live sports throughout the week. There are also a few pool tables around the venue you and your mates can enjoy too. Not only is it famous for its exciting atmosphere, but this bar is also noted for its incredible selection of drinks behind the bar and a pub-grub menu rivalled by few others.
7. Pacific House
12-22 Northumberland Road | Website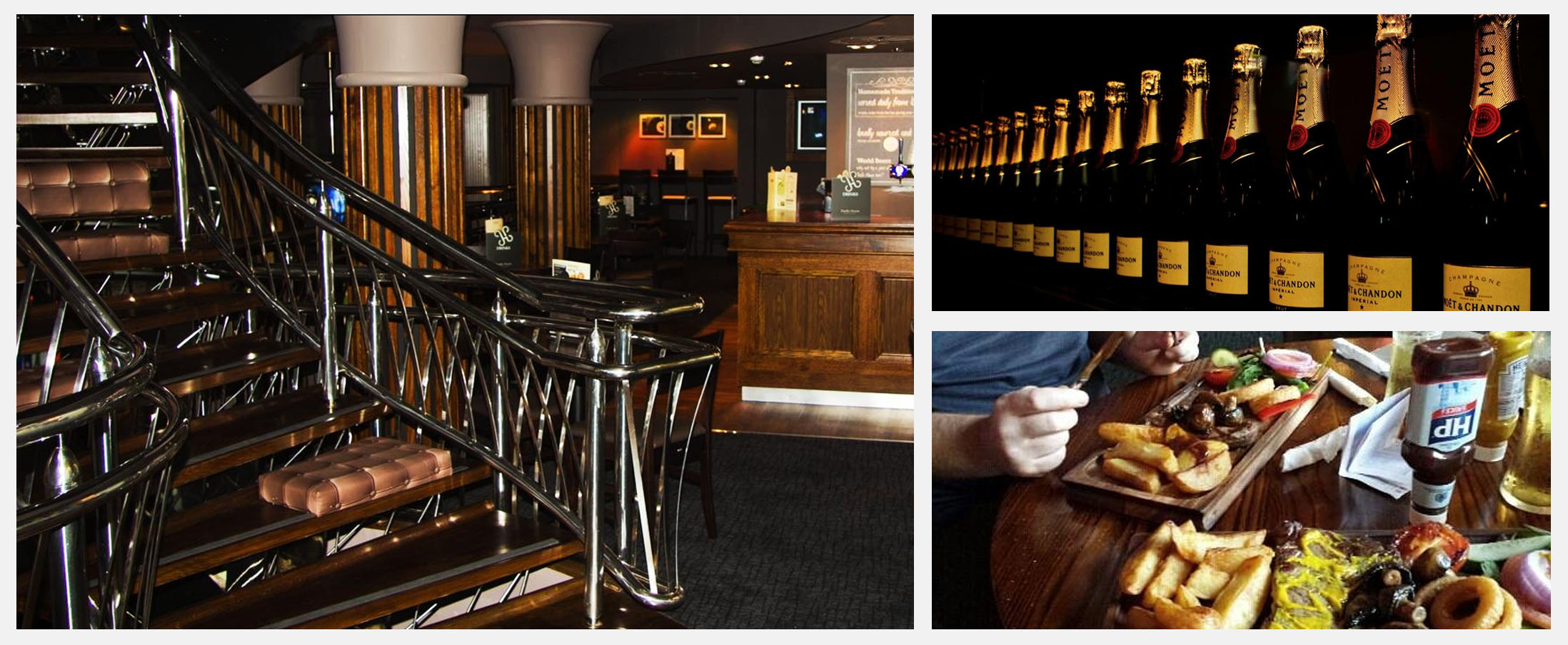 Pacific House is the place to go for everything, 2 for £10 cocktails on Sundays, self-serve tap, Newcastle Gin, food, drinks, Burger Tuesdays and most importantly, the live sports they have here. You can enjoy live sports here on one of their ten large-screen TVs! If you are planning, you can book a table or booth for your group to have the best seats in the house. Each TV can show a different sporting event, with Sky Sports, Sky Sports F1, ESPN and BT Sports available.
8. The WonderBar
Newgate Street | Website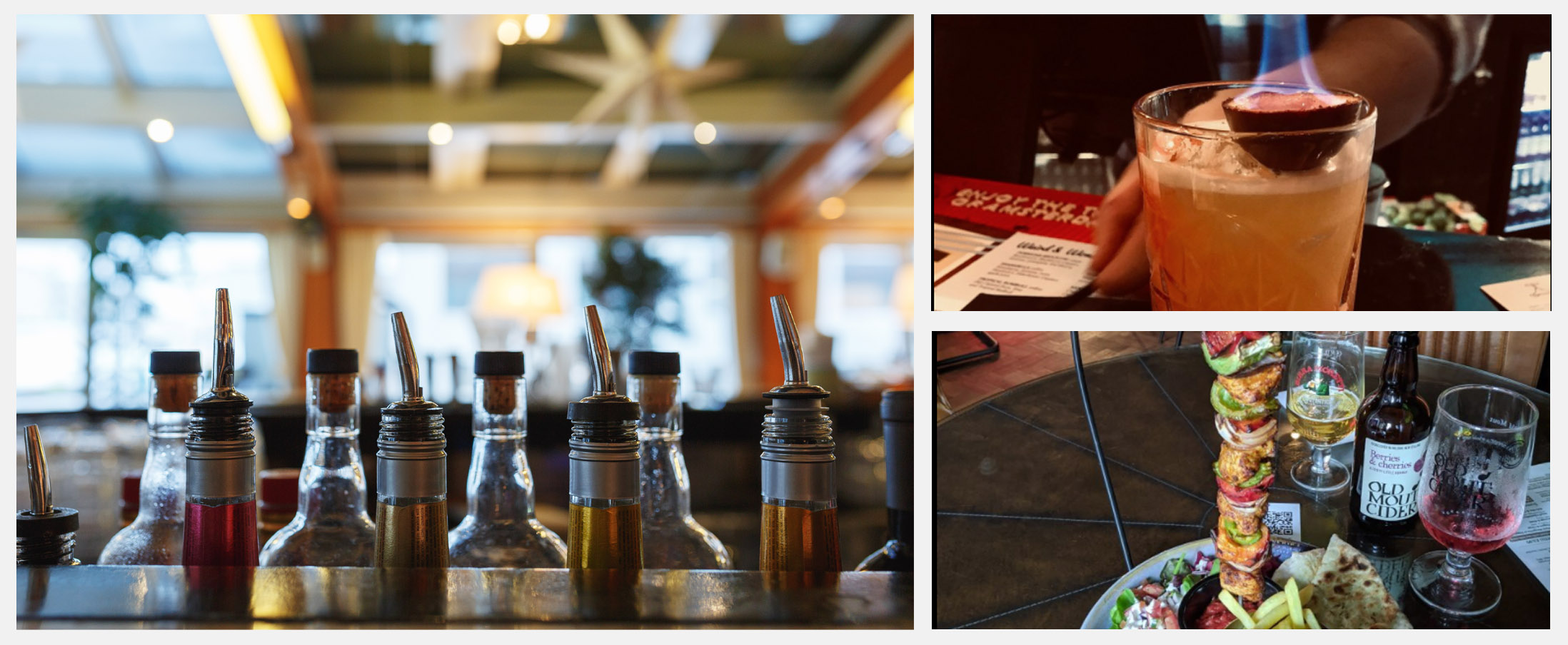 Whether it's the middle of the day or night, WonderBar Newcastle is the ultimate place to hang out and catch some live sports on TV. Known for its fantastic food and drink and offering interactive darts to customers (the only bar in the city that has them!), this exciting bar also hosts live music every night of the week. Even after the game, this bar is a great place to carry on the party into the night.
9. Crows Nest
137 Percy Street | Website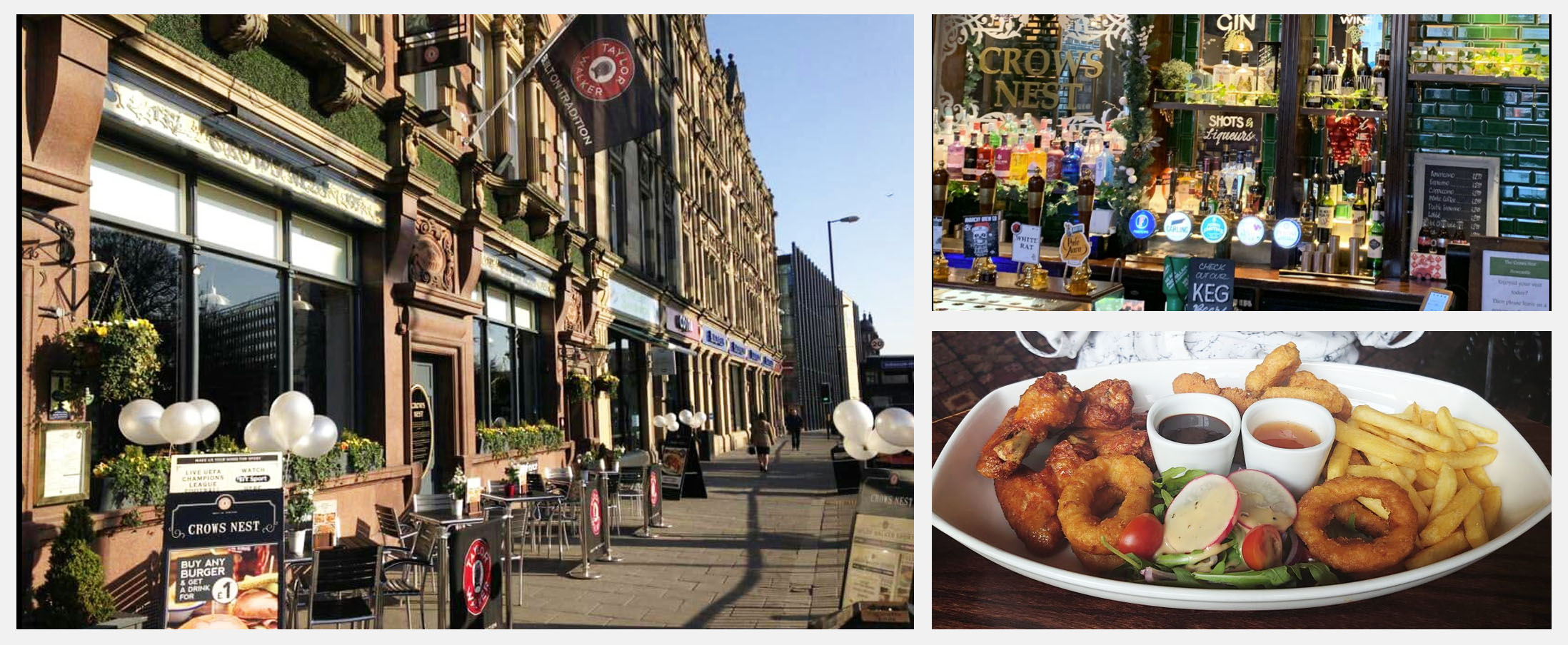 Whether you are looking for a place to start your night out or somewhere to sit and enjoy watching the football on a Sunday, the Crows Nest will be perfect. This Greene King pub has a beer garden, BT Sports, and Sky Sports, which are the three things you need for a successful live sports experience. They are open from 11 am to 11 pm and serve food up until 10 pm, which is perfect if you are there to watch the sports.
10. City Vaults
13 Bigg Market | Website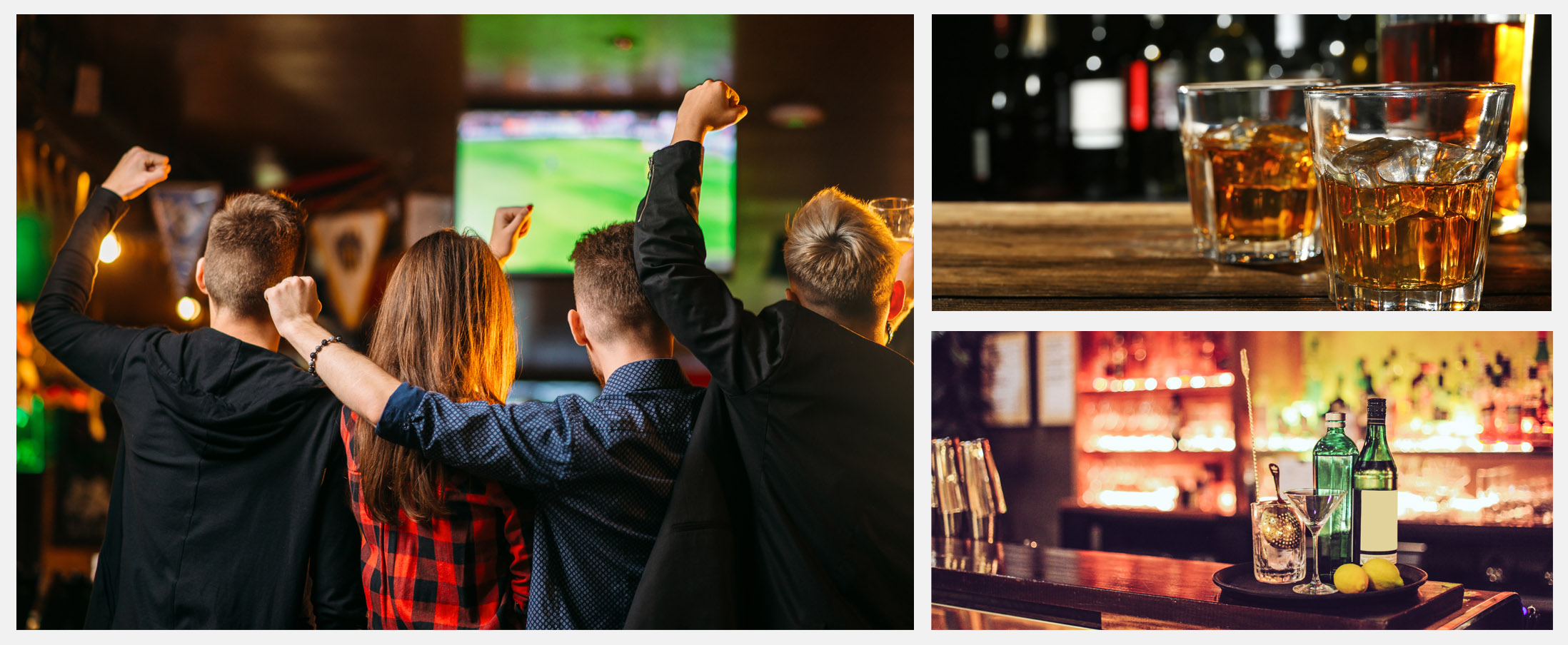 Known for being Newcastle's No.1 Sports Bar and home of The Magpies supporters, City Vaults is the perfect place to go if you want to watch live sports with friends. This venue also doubles as a late bar and underground club, so if you fancy staying all night long, you can! BT Sport, Sky Sports, and Sky Sports Box Office are available to watch various major sporting events in one place.
---
Did You Know?
We host amazing Newcastle bubble mayhem events as well as Bubble football in Newcastle for the lads too.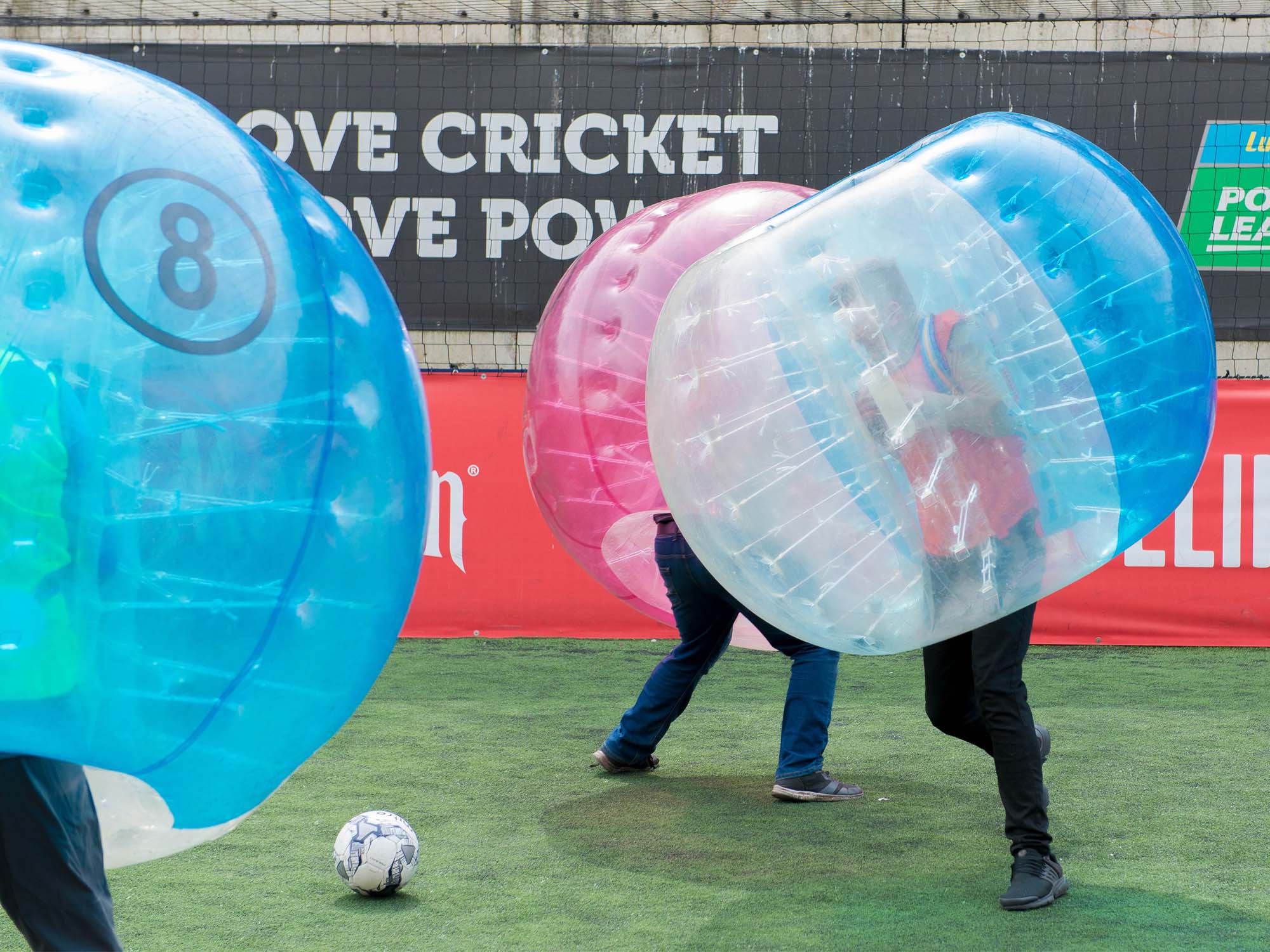 We Guarantee that you'll Love your Bubble Event with Us!
One Price – Venue, staff and equipment all included
Tried & Tested – 2000+ reviews on Trustpilot
Hassle-Free – Simple online booking process