Specialists in Bubble Sports for Groups, Hen & Stag Do's
We offer different choices of zorb activities including our best sellers bubble football and bubble mayhen.

No issues, all ran smoothly on the event. We had a few big lads but all managed to get in to the bubbles. Will probably do it again next year
How it works?
1. Where-what-when
Select your location & activity & time. Pay a small deposit
2. Keep you updated
Once booked, log in to My Events area to see your event, invites friends & pay online
3. Make memories!
Get bouncing and bashing with your friends.
VIP Area - My Events
Online Group Payment System
Online Itinerary – 24hr access to your event details
Individual Payments – Secure online payments
Features – Group Chat room & emails, Personalise it!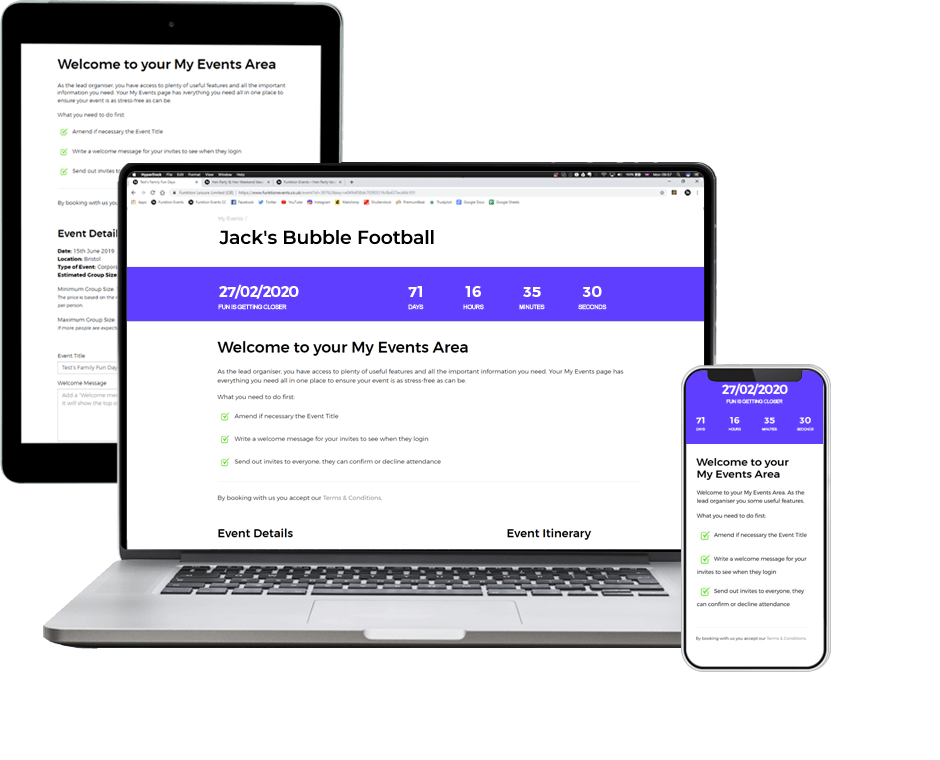 We Organise 2000+ Events Each Year
Delivering fun zorb activities for hen parties, stag do's, mixed adult groups and team building days across England, Scotland, Wales, Ireland and throughout Europe.
15 years experience
1000's of hen & stag parties
65+ locations across the UK & Europe
All our events are risk assessed
500+ leisure & sport centres
Fun event co-ordinators
At Bubble Active, we are proud to be at the forefront of bubble football entertainment, with our services available in over 65 locations across the UK. Our mission is to provide an experience that is both full of fun and laughter but also something a bit out of the ordinary.
Our offering has expanded further over time, so now you can also enjoy bubble mayhen and zorb activities for hen parties and team-building days, all tailored to meet the specific needs of your group.
Who Are Bubble Active?
We are an established business that specialises in fun sports activities for groups wearing inflatable bubble suits. Based in Chester city centre we have been delivering radical events for hen, stag, birthdays, and businesses for over 15 years.
What are Bubble Sports?
We describe bubble sports as anything where inflated bubble suits are worn to play active sports activities. There are a variety of different events but we specialise in
What are Bubble Suits?
An essential part of our zorb activities, the bubble suit is inflated to 1.5 metres using electric air blowers. They are made of PVC and TPU material. Once blown up, the user puts them on with straps to hold them in place. The bubble will completely protect your upper body but leave your legs free to run around.
What is the Difference Between Bubble & Zorb Activities?
Zorbing (sphereing, orbing) has been a craze for many years and is the sport of rolling downhill inside a very large fully encased inflatable orb which is fully transparent. It developed into the orbs being used on water and can be seen at many fun parks for kids and adults to participate in.
The word bubble came about to differentiate the two. Our bubble active experiences use many of the same principles as zorbing which is why it's also referred to as zorb football. Wearing a protective bubble that covers their body and head, players attempt to kick a ball.
Based on the definitions above, here are some key differences
Our event only covers an individual's upper body and head while zorbing is a complete ball that an adult can walk into and is fully covered.
Zorbing is mainly used for rolling down hills or on water whereas bubble events are used to bash and smash into each other during sports games.
Locations To Play Zorb Activities
We use sports & leisure centres across the entire UK & Europe for groups to participate. See all our locations here. However, if you can't get to a venue but still want to do something fun, then maybe a virtual team activity is the way forward.