What is Bubble Football?
Bubble Football, sometimes known as zorb football, is a team sport like a 5-a-side football game where two teams compete to score the most goals whilst half-encased inside an inflated bubble suit, similar to a zorb. The bubble suit is 1.55m high, completely covering your head and upper body. Your legs can still move freely whilst wearing the bubble suit, enabling you to pass the ball and score goals. Smash into the other players in your bubble football suits and bounce them out of the way.
The game is played in large outdoor sports venues with two teams of 5 players on each side with rolling substitutes — an excellent activity for stag weekends, birthdays, team building and parties.
Bubble Football Reviews

What's Included
Total carnage football game
10 inflatable bubble suits
Groups of 10-19 players play for 60 minutes
20-24 players play for 90 minutes
Match referee to host the event
Pitch hire included
Variety of games like British Bull Dog

Bubble Football Frequently Asked Questions
What is the difference between Bubble Football and Zorb Football?
There is no difference between Bubble Football and Zorb Football. Bubble football is the sport's official name, but it is also known as Zorb Football or Zorball. You may also hear some people call this sport bumper football, which makes sense since you are bouncing and bumping your way around the football pitch!
How to Play Bubble Football
Bubble Football is a simple concept - Much like a regular game of 5-a-side football, the aim is to score as many goals as you can in the opposing team's net… except that you'll be wrapped up in a giant inflatable bubble suit! There aren't any set positions on the pitch like in football, but making sure that you're both attacking and defending for your team is key. During the session, you'll also play some brilliant mini-games to break things up.
What to Wear for Bubble Football?
We suggest you bring sportswear like tracksuit bottoms and trainers. Football boots or blades are not allowed for the safety of others taking part. As most venues are outdoors, remember to bring a coat or waterproof. Even if you feel like a human bubble, you must dress correctly.
Is Zorb Football a Good Activity for a Stag Do?
Many of our bookings of Zorb football are stag parties or groups of men who love active sport. Not for the fair-hearted, these football bubbles will undoubtedly get you in the mood for a few drinks on the stag night. Check out some hilarious Bubble Football videos so you know what you're getting into.
What Bubble Football Equipment is Used?
The equipment for bubble soccer is ten inflatable bubble suits, a set of goals, a football, and a referee to keep everything running smoothly! What's best is that all your bubble football equipment is included in the price - Meaning no extra cost for equipment hire nor the need to bring any with you on the day.
Where Can I Play Bubble Football?
We can provide Zorb football throughout the entire UK using outdoor venues like 3G pitches and indoor venues such as leisure centres. Like most sports venues, they are just off the city centre or within a few miles. The bubble football and venue hire are all at one price for your group!
We can host Zorb football throughout the UK using outdoor sports venues with 3G pitches, such as Goals and Powerleague and sports and leisure centres. Like most sports venues, our venues are just outside the city centre or within a few miles. Venue hire is included in the price per person.
To see a complete list of all the locations we can offer you, please refer to the locations drop-down at the top of the page to get started.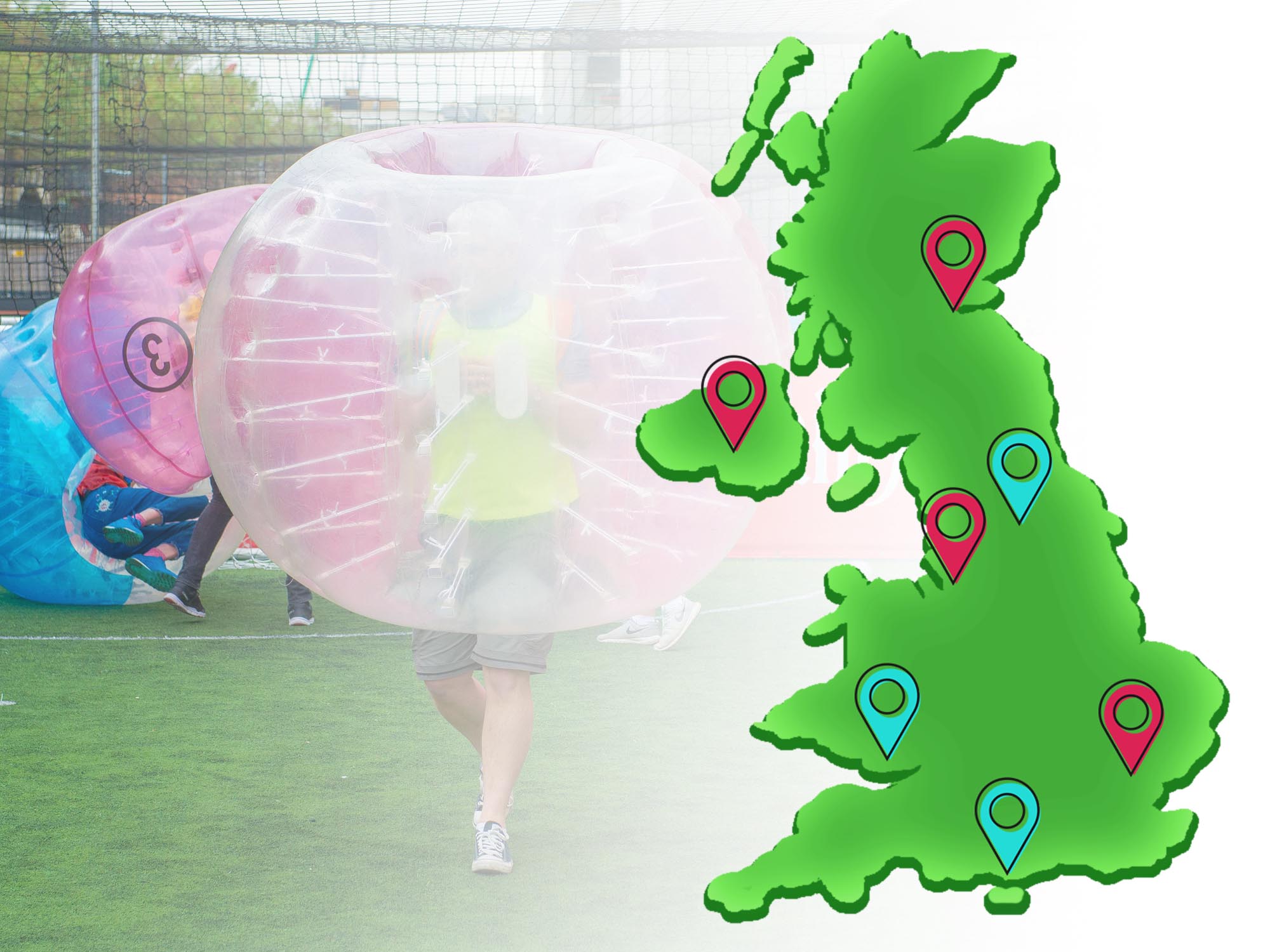 Did FC Barcelona and Lionel Messi Play Bubble Football?
Yes, they did. Most of the first team played the game and bashed into each whilst also performing some unbelievable skills.
Who Can Take Part in Zorb Football?
Bubble Football is a mainly all-inclusive event that everyone can get stuck into. Whether that is a stag party, hen do or team event. Children can participate in bubble ball UK. However, you must let us know at the time of booking as younger players use a different bubble suit.
However, to take part, there are a few conditions that need to be met:
- You don't have any underlying health conditions or injuries such as high blood pressure, heart conditions, epilepsy, or lung conditions
- You aren't pregnant
- You aren't under the influence of alcohol and/or drugs
- You don't have any back or neck problems
- You haven't had an operation in the last 12 months
When was Bubble Football invented?
Bubble Football first originated in Scandinavia. It first appeared on the TV show Golden Goal by Norwegians Henrik Elvestad and Johan Golden. The popularity excelled in the UK and is especially popular with stag parties and groups of football lovers. Although you may feel like you are an extremely skilled footballer, playing football in bubbles is a lot harder than it looks! UK bubble football events are run in the 1000s across the whole country.
How do you get in a Zorb Ball?
After it's been inflated, you simply lay the bubble suit on the ground, climb in and put your arms through the straps provided. Then move so you are on your knees and stand up. At first, it feels strange but your body will adjust to the extra weight and balance itself.
Reviews
Spot on! Zorb footy is a must.
Great day with the lads. Pete the ref was great. Very professional and full of energy. Thank you to Bubble Active for arranging this with no hassle
Well organised zorb football. All the lads enjoyed it - maybe not the stag - as he got smashed :)
Amazing time with the boys! Thanks for sorting
Easy to book online. Venue was a Goals sports pitch which was perfect as it had a bar.
Structured and organised very well. Trevor the referee was entertaining and professional.
Good value for money. We had 90mins as we were a large stag do group.
We had a few issues at the beginning trying to find our event organiser at the venue, but it started on time still
Zorb football was well worth doing. Crazy event
Everything went well. Bubbles were clean and ready for us to start. Ref was sound and kept it fun
Can't fault the customer service I received. Emily helped me decide the best time to book the zorb football for the stag do.